National Weather Service Alerts for Suffolk County, New York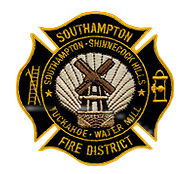 Welcome to the Official Website for the Southampton Fire District
The Southampton Fire District was created by legislative action by the Southampton Town Board in 2003.
The Fire District covers approximately 16 square miles and is comprised of the hamlets of Water Mill, Tuckahoe, Shinnecock Hills and Hampton Park.
The Southampton Fire District is overseen by five Commissioners whose job is to ensure that adequate fire protection services are provided to the residents of the District at a reasonable cost.
The district holds monthly meetings on the second Thursday of every month at the Tuckahoe School located at 468 Magee Street, Southampton, NY, 11968.
Your feedback is important to us! Feel free to sign the guestbook.